Building on the success of working with Megabus North America, uTrack have further extension our commercial relationship with their parent company – Coach USA.
Our Origin solution with real-time information is now being used to service fixed line scheduled service contracts such as Washington County Commuter Express.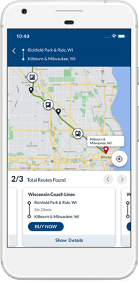 The hardware agnostic uTrack Platform enables Coach USA to integrate with various of the GPS data sources based on what's currently in the vehicles while providing a standardised interface for employees managing the contract.
Coach USA is one of the leading providers of ground passenger transportation and mobility solutions in North America and the largest privately-owned, U.S. based bus company in the country. With operations in 27 locations throughout the United States and Canada and more than 3,000 employees and 2,250 buses, the Coach USA network of companies carries over 38 million passengers throughout the United States and Canada each year.
uTrack Software was founded in December 2010, headquartered in Dublin, Ireland providing software-based technology for the public transport industry in Europe & North America. uTrack's clients carry over 2 billion passengers annually on their services across School Buses, Urban Bus, Rail and Intercity Coaches.